Due to life interfering, I read half as many books this year as I have in previous years. What I have read though has, on the whole, been incredibly good. I've selected the ten I loved the most and included five others I highly recommend at the end of the piece. If I've reviewed the book in full, there's a link at the bottom of the description.
When I Hit You: Or, A Portrait of the Writer as a Young Wife – Meena Kandasamy
The story of a marriage between a young, educated woman and a university lecturer. When I Hit You is both a tale of domestic violence and of a woman becoming a writer by writing her way out of her situation. Kandasamy's experimental style frames the experience as though the narrator is witnessing the horror brought upon her. It's brutal, it's thoughtful, it's shocking. It's incredibly relevant in 2017.
You can read my full review and watch my interview with Meena Kandasamy here.
What It Means When a Man Falls from the Sky – Leslie Nnedi Arimah
Hands down the best short story collection I've ever read. Arimah does things with the form that shouldn't be possible. In the first story, for example, the protagonist is held in a moment while the back story of everything that led to that point is revealed and yet the tension holds sharp. Many of the stories are concerned with the way women are shaped by/shape themselves around men, all of them carry an emotional punch.
Homegoing – Yaa Gyasi
Two sisters, Effia and Esa, born in West Africa in the 1770s are separated. One becomes the wife of a slave trader, the other is shipped to America as a slave. Gyasi follows the two lines to the present day. Each chapter focuses on the next branch of the family tree and works as a short story in its own right. Alongside this runs the story of the creation of the black race, its reasons and consequences. It's an incredible achievement.
My full review is here.
Attrib. and Other Stories – Eley Williams
Williams' debut short story collection is full of animals, clever word play, humour and love. While all of these elements contribute to intelligent, engaging stories, it's the emotions at the core of the tales which elevate them to something special. The reader's transported to the position of the narrator, feeling their anticipation at the potential lover standing next to them or their loss at the one who's just left.
You can read my full review and watch my interview with Eley Williams here.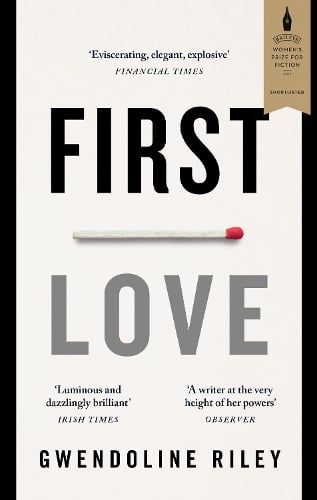 First Love – Gwendoline Riley
Neve is a writer in her mid-thirties, exploring her marriage to an older man, Edwyn, and the impact previous relationships, both romantic and familial, have had on who they are now. Almost everyone in Neve's life is abusive in some form; Riley conveys this through a range of incidents told from Neve's perspective, leading the reader to question whether or not she's telling the truth. Searing and utterly pertinent in 2017.
My full review is here.
Vernon Subutex 1 – Virginie Despentes (translated by Frank Wynne)
Vernon Subutex once ran a legendary record shop in Paris. When his benefactor and musician friend, Alex Bleach, dies, Vernon is left homeless. Subutex moves between the houses and apartments of friends and acquaintances before ending up on the streets. Despentes gives a searing commentary on Western society's views of a range of hot topics: social media, hijabs, the rich, sex workers and a whole lot more.
The End We Start From – Megan Hunter
An unnamed narrator gives birth to a boy as floodwaters rise in the U.K. Soon London is covered and the narrator and her new family can't return to their flat. They move to their in-laws and then on to a refugee camp. Also works as a metaphor for the first year of motherhood. Taut and compelling.
My full review is here.
Homesick for Another World – Ottessa Moshfegh
A collection of stories about ordinary people at their worst, it's a mirror held up to today's society: to the misogyny, to the privilege, to the hypocrisy. Some of the characters know better but can't be arsed to do better; some of them make an attempt but fall flat at the first hurdle. The collection's full of characters for whom, essentially, nothing changes. Only Moshfegh could pull that off.
My full review is here.
Elmet – Fiona Mosley
"Daddy" builds a house in a copse in the woods for himself and his teenage children, Daniel and Cathy. The land on which he builds is owned by Price, the most influential man in the area. Daddy is fully aware of the antagonism this will cause, but, as the best bare-knuckle fighter in the U.K. and Ireland, he wields his own form of power. From this moment, the two men are pitted against each other; it's a matter of when, not if, the violent tension will explode. An exploration of gender roles and what happens if you transgress them, as well as a commentary on class and privilege.
I wrote about why Elmet is an important working class novel for OZY.
Seeing Red – Lina Meruane (translated by Megan McDowell)
At a party, Lucina feels a pain and blood begins to fill her eyes. She begins to go blind. The doctor tells her he can do nothing other than monitor the situation, leaving her to adjust to a life in which she has to rely on others to help her. She is furious and her anger increases as the story progresses. Told in flash length chapters with short, spiky, repetitive sentences. Horrifying and brilliant.
You can read my full review and watch my interview with Lina Meruane here.
And the highly recommended:
Tinman – Sarah Winman
Ellis and Michael are inseparable until Annie arrives in their lives and Ellis marries her. A story of hidden love, friendship, AIDS and art. Beautiful and heart-wrenching.
A Book of Untruths – Miranda Doyle
A memoir about Doyle's family. Every chapter reveals a lie that's been told while questioning the reliability of memory and the purpose of memoir writing.
A Manual for Heartache – Cathy Rentzenbrink
An indispensable guide for when the worst happens to you or someone close to you. My piece about it is here.
The Lonely Hearts Hotel – Heather O'Neill
The love story of performers Rose and Perrot and also a scathing commentary on patriarchal society's treatment of women, particularly with regards to sex and shame.
My full review is here.
The Other Half of Happiness – Ayisha Malik
The sequel to Sofia Khan Is Not Obliged. Sofia's married to Conall but there's a whopping great secret he hasn't told her. Has a punch the air, feminist ending.
My full review and interview with Ayisha Malik is here.