When I ran the Unsung Female Writers' lists parts one and two, JacquiWine contacted me and suggested I ask some male bloggers to share their suggestions. What a fantastic idea, I thought, so I contacted two of my favourite male bloggers, both of whom are great champions of women writers.
Today, I'm delighted to welcome Eric from lonesomereader and David from Follow the Thread to share the women writers they think we should be reading.
David reads and reviews mostly fiction and although he's happy to read any book as long as it's good, he particularly enjoys reading speculative fiction. This year he's aiming for two-thirds of his reading to be either literature in translation or English language works from outside the UK or the USA. He also reviews for a number of publications and is the current guest editor for Fiction Uncovered.
Nina Allan
(Photograph from ninaallan.co.uk)
Nina Allan's work sits on the boundary between literary and speculative fiction, skilfully combining both with a strong sense of the southern English landscapes in which her stories are often set. Most of her work to date has been short fiction, including the collections The Silver Wind, a fragmented portrait of loss depicting multiple versions of the same characters; and Stardust, which chases the dream of a film actress through past, present and future. But perhaps the best place to start is The Race, Allan's recently published debut novel, which begins as a tale of the racing of genetically enhanced greyhounds, and turns into an examination of individuals having to re-evaluate their place in the world.
Octavia E. Butler (1947-2006)
Octavia Butler was one of the most significant African-American writers of science fiction, whose work explored issues of race, gender, and power struggle, amongst others. Her books ranged from Kindred, the tale of a contemporary African-American woman sent back to the early 19th century; to the "Lilith's Brood" trilogy, in which the remnants of humanity are rescued by an alien species able to manipulate genetics. From the work of Butler's that I've read, I would suggest starting with Parable of the Sower, whose protagonist founds her own humanist religion in a near future afflicted by environmental damage. It was the first in a series which was left unfinished after two volumes by Butler's sudden death at the age of 58.
Liz Jensen
Liz Jensen is a difficult writer to pin down, as she never quite does the same thing twice (which is always a good thing as far as I'm concerned!). She has written a mystery from the viewpoint of a boy in a coma (The Ninth Life of Louis Drax); painted a satirical portrait of contemporary Britain seen through the eyes of a 19th-century time traveller (My Dirty Little Book of Stolen Time); and told an unsentimental tale of life on the Home Front (War Crimes for the Home). If you've never read Jensen before, try The Rapture, a sharp study of a paralysed psychotherapist trying to prove her worth whilst treating a girl who is apparently able to predict catastrophe.
Yoko Ogawa
Yoko Ogawa is a highly prolific author in her native Japan, but only four of her books have appeared in English to date (all ably translated by Stephen Snyder). These tend towards the dark and macabre, as demonstrated her collection of linked stories, Revenge (shortlisted for this year's Independent Foreign Fiction Prize), or Hotel Iris, her novel about a teenage girl's relationship with an older man. But Ogawa's work also has a lighter side, which can be seen in The Housekeeper and the Professor, the charming tale of a woman who goes to work for a mathematician with short-term memory problems. Any of Ogawa's books would make a good entry-point, but the three novellas in The Diving Pool stand as a fine showcase of her range.
Caroline Smailes
Nothing that Caroline Smailes writes is straightforward; she uses form and structure to transform her subjects. For example, Black Boxes explored the closed emotional worlds of a mother and daughter through their own private 'black boxes' – the mother's conversations with herself about her memories, and the daughter's diary. 99 Reasons Why was an ebook-only novella with multiple endings, which could be selected at random through your ereader. You might like to begin with Smailes's most recent novel, The Drowning of Arthur Braxton, which transplants water sprites to a municipal swimming pool in the north of England, but with a real sense of menace and magic.
Eric has had a 'passion for turning the page' since he was six. He has a Masters in Studies in Fiction from UEA and writes his own stories too. His novel Enough won the Pearl Street Publishing First Book Award.
Amanda Craig
Writer and journalist Amanda Craig is certainly worthy of more attention and praise. She has produced several excellent books including novels that take you on a girl's journey in Tuscany, re-imagine a Shakespeare play, uncover the secrets of a British boarding school, survey the changing immigrant population of London and examine the vicious world of journalism. I would recommend starting with her extremely moving novel IN A DARK WOOD about mental illness and the hidden meaning of fairy tales.
Angela Carter
Normally I would grudgingly respect judges' decisions in literary prizes, but the snubbing of Carter on the 1991 Booker shortlist was criminal. She was one of the most innovative English writers of the 20th century and dying from cancer at the time her final novel WISE CHILDREN was released. As with all of this stunning writer's work, it is a brilliantly inventive book and should have been acknowledged.
Rachel Ingalls
Who is Rachel Ingalls? A private and elusive writer who has produced only several slim volumes of writing since the 1960s. Her writing delves into the fantastic where hard reality buffets up against the surreal. Read MRS CALIBAN about a housewife's love affair with an aquatic being who has a taste for avocados. It's an inspired, complex, subversive masterwork.
Joyce Carol Oates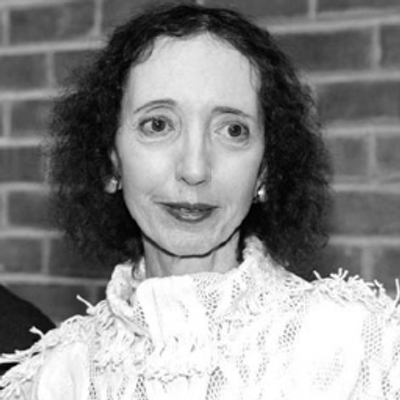 It's too easy to gape at Oates' staggering productivity and dismiss her as a writing machine. Yes, there are over 60 novels, over 35 story collections, more than a dozen non-fiction books – plus poetry, plays, anthologies, young adult novels and more every year. Do not despair! This is a dedicated artist whose writing always surprises and engages you. Begin with her novel THE GRAVEDIGGER'S DAUGHTER and carry on exploring this complex, intelligent writer whose writing you'll always want to come back to.
Jean Rhys
In the 1930s Rhys published a string of intense and beautifully melancholy short novels, but then faded into relative obscurity for 25 or so years. When she successfully returned to the public eye with WIDE SARGASSO SEA many people were surprised she was still alive as they had assumed she committed suicide given the depressing tone of her previous novels. Of course, any fan of JANE EYRE must read Rhys' novel WIDE SARGASSO SEA, but her early novels deserve exploration – particularly GOOD MORNING, MIDNIGHT whose devastating ending provides the perfect counterpoint to Joyce's ULYSSES.
Huge thanks to both David and Eric. Some brilliant choices, as ever some I've read, some I've heard of and some I'll be looking up now. Hope you've found someone who looks interesting to you too.